Systems Arabia, a subsidiary of Systems Limited,
empower businesses

to win the competitive market, with services and solutions that help them deliver innovation with purpose.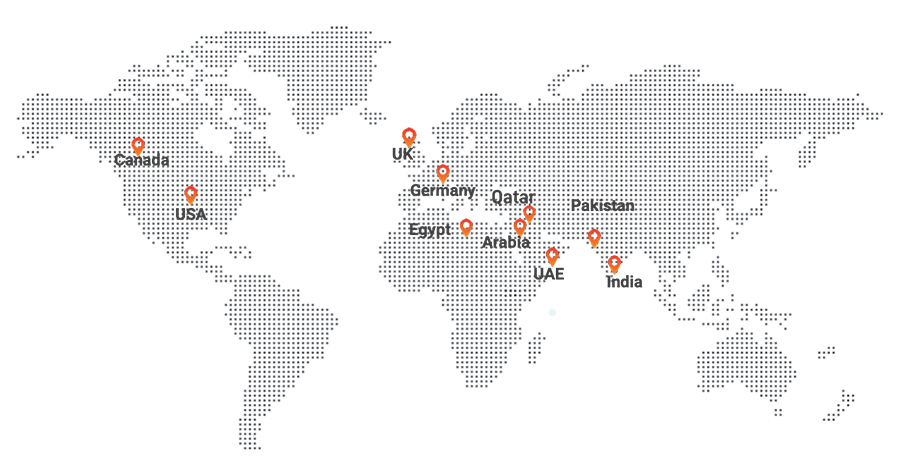 Systems group of companies – Disruptors in technology

45

+

Years of service

8500

+

Workforce

04

Continents with Systems presence

400

+

Satisfied clients
The minds behind Systems Arabia
Systems Arabia possesses a team of seasoned business veterans that bring years of professional experience to the table. With their continued guidance, we can facilitate human lives with an amalgam of technology, adding value and moving at the pace of customers.

Asif Peer
Chief Executive Officer
Mr. Asif Peer is the CEO of Systems Arabia and oversees the strategic development and growth objectives of the company.
In his 25-year professional career, Mr. Asif played a key role in leading the organization to continued success by leveraging both the IT and BPO departments to excellence. With visionary leadership, he has maintained an upright market stature for Systems Arabia.

Rao Hamid Khan
GM Systems Arabia
Mr. Rao Hamid has worked in the tech industry with various multinational corporations for more than two decades.
With a professional record of working with companies like Teradata and IBM, he took the position of Chief Commercial Officer at Systems Arabia and currently serves as the General Manager for regional operations. Mr. Rao administers the execution strategy and provides direct management oversight for the domestic business.

Faisal Tajamal
Head of Cloud Application & Development
Faisal has an accomplished career in the IT sector with over 19 years of professional experience working in different roles and industries in the Middle East, the USA, and Pakistan.
Over the last ten years, he has been working in customer-centric and technology leadership roles & is responsible for global team engagement, solutions delivery, presales, and process management. His prior experience includes working with Netsolace as a Vice President for Software Development.

Habib Ahmad
Head of Data Analytics
With 14 years of proven experience in data analytics, operations management, and strategy development, Habib has been contributing to enterprise success stories around the US, the Gulf region, and Pakistan. On top of the administration and technical skills, he is well-versed in retail and supply chains operations, bringing valuable product development expertise to the organization. He holds a BSc (Hons) in Computer Science and previous roles as Data Architect, Practice Lead, and Project Manager at Systems Arabia.

Khurram Safdar
Head of Digital Consulting
Seasoned business professional with more than 15 years of proficiency in cross-functional market strategies for enterprises that drive innovative products, value-added services and, connected experiences.
He is responsible for the design and implementation of CX/UX and human-centered design strategies, particularly across markets spanning the Middle East, South Asia, Europe, and the USA.

Muhamad Amin
Head of Cloud Operations
Seasoned IT executive with comprehensive professional expertise in cloud services, Database Development, and Business Intelligence.
Amin has extensive experience in project management, database consultancy, and cloud development and optimization. He currently heads clouds operations at Systems Arabia and holds a Master's degree in Computer Science from the University of Punjab.

Ovais Khan
Head of Integration Frameworks
Ovais has 15+ years of industry knowledge in setting up scalable and robust system architecture using business application models and process automation.
He heads a team of dedicated integration specialists that design, develop, and deliver enterprise solutions for lasting business excellence.

Naveed Ali Tahir
Head of Microsoft Business Applications
A qualified IT veteran with 20 years of business acumen in digital transformation and enterprise- grade technologies.
Throughout his professional career, Naveed has succe- ssfully engaged business teams to support different on- premises and cloud-based frameworks with his capabilities to work in multi-project environments. Apart from that, he has worked at IBM and remained a strategic advisor to startup ecosystems in Pakistan.

Talha Mashkoor
Head of CRM
Talha is a versatile digital transformation specialist with more than 15 years in the IT industry. His expertise entails CRM and ISV development alongside managing and optimizing implementation delivery. While working at Systems Arabia, he has taken senior delivery roles including Solution Architect, Release Manager, and Head of the CRM team, which consists of well-versed SMEs and consultants.
What makes us different?
Business acumen

With our cutting-edge technology, we combine the right amount of expertise to create 360-degree value for your business.

Proficient workforce

Our dedicated team of technical experts offers innovation-inspired solutions that empower your business to dominate the market.

Digital adoption

We recognize growing customer expectations in the online space to gear you towards rapid business transformation and achieve digital excellence.

Core values

For us, collective input is at the core of creating lasting value in every direction. It glues together individuals to teams to the whole and fosters a winning culture.

Value-driven services

Systems Arabia combines agile operating models with offsite affordability to deliver feasible business solutions that add purpose to your business.

Global coverage

With operations spanning over globally, we believe in innovation, precise delivery, and customer satisfaction.